In 1996 at the City of Asheville in Asheville, North Carolina, a 'new model' of healthcare was emerging which involved identifying high-risk health plan members and conducting one-on-one meetings with healthcare personnel. The goal was to get the high risk plan members to become compliant with the medical norms of their specific health condition or disease. These efforts ultimately received national notoriety and became known as the Asheville Project and later through national grants as Ten City Challenge.
In the years that followed, over $2,000,000 was spent studying the effectiveness of the program. In the end, the program is the most independently researched, peer reviewed, and published disease management program in existence! Simply put, the results speak for themselves.
A recent study of the total medical claims of our employer clients versus that of a major, national insurance carrier revealed our claims were 19% less than their norms. These results were achieved through our nurses meeting one-on-one with high risk participants, every month.
Sky Disease Management delivers highly measurable and identifiable data showing actual claims savings to our clients, and due to this success we have built great stop loss relationships with preferred pricing and plan provisions. Through coupling our medical management with the procurement of reinsurance, you can now capture full credit for your health management efforts.
Face-to-Face Disease Management
Employer Outcomes | Case Study #1
1,275 Employee National Employer
This self-insured client has enjoyed significant savings over basic medical trend. As you can see below, their medical and prescription drug costs in this past year were 38% less than otherwise expected. Over the past 6 years, they have accumulated total savings over basic healthcare trend of $16,406,495. Of note, there were no plan design changes during this period of time to be responsible for this savings, but only proper medical management.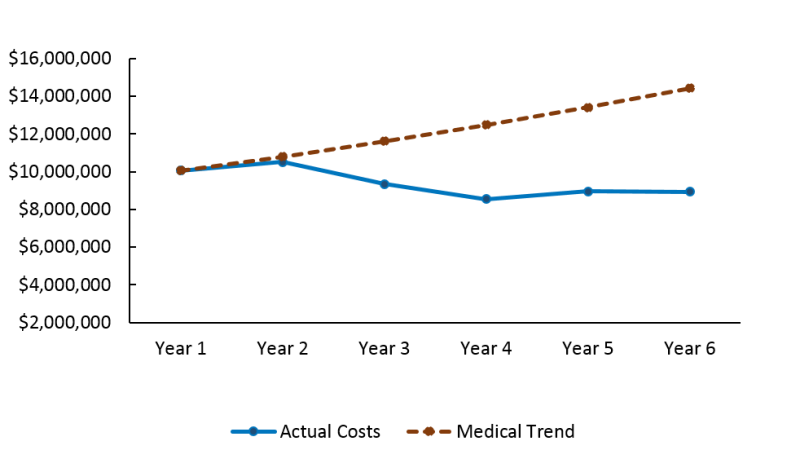 With the initial success regarding diabetes, the program began to quickly extend to other disease states including the following conditions now currently actively managed under our disease management program which including: hypertension, asthma, diabetes, back pain, hyperlipidemia, neck pain, depression, headache, congestive heart failure, liver disease, atrial fibrillation, osteoporosis, immune disorders, kidney failure and many more.
With the large number of patients studied in the areas of hypertension, diabetes and asthma, the following 3 studies and outcomes are usually of particular interest to employers.
Hypertension. 5 Year, 6200+ Patients. Journal of American Pharmacy
53% decrease in risk of cardiovascular event
50%+ reduction in risk of related cardiovascular emergency department visit
31% reduction in medical costs related to cardiovascular patients
Diabetes Study. 5 Year, 200 Patients, Journal of American Pharmacy
Total direct medical cost decrease $1,200 to $1,872 per patient per year
Estimated productivity increases estimated at $18,000 annually
Asthma Study. 5 Year, 200+ Patients. Journal of American Pharmacy
Total direct medical cost decrease $725 per patient per year
Indirect cost savings estimation of $1,230 per patient per year