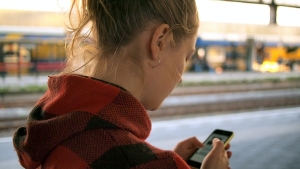 We've all been spending more time on our phones thanks to the current pandemic. Why not spend this time learning more about the top apps for insurance that you can download right now? Each of these apps can get you more savings, more protection, and more guidance right at the tips of your fingers! 
Technology is something that we live and breathe every day. It's the industry that we work in, and due to the current pandemic, it's something that has been taking up a lot of our free time. Thankfully, it has also helped us work safer and more efficiently from the comfort of our homes, too. While your phone has settled into its new permanent home inside of your palm, why not use it to your advantage? Technology has affected every industry and is a constantly growing and evolving factor of the insurance world. The saying that "there's an app for that!" could not be more appropriate right now. There really IS an app for everything! And this sentiment doesn't exclude the insurance industry. In this blog, we are going to be discussing some of the best apps available to download on your Android or iOS phones for insurance coverage.
Geico Mobile Car Insurance
Getting the right insurance for all your personal needs can be a challenge. Thankfully this app has risen to that challenge. It's an extremely informative, easy to use, convenient app that provides excellent service. It goes beyond just providing information to its users. It's an app that provides help and support when your car has a flat tire or when you've been in a car accident. It can also provide support for Amazon Alexa and Google Action. This support allows users to control certain features within the app using voice commands. You will be able to get answers very quickly, it helps you find parking at your final destination, you can set reminders to pay your bills within the app, and more.
Just as if you were to walk into a meeting with a Nationwide Insurance rep, the app goes above and beyond in delivering quick and efficient service with a personal touch. Within the app, you can automatically get quotes, file claims, and view them. You can pay your bills, update your preferences the instant they change and get your ID card. The app is there for you when you can't get on your computer, and is very easy to use. You won't be left confused or empty-handed in any situation. Claims and issues are handled quickly and painlessly through the app.
The app holds true to their slogan "insurance that's quick and easy to buy and use – anywhere, anytime." The customer service through the app and when talking to an insurance representative on the phone is one of their most praised attributes. It is also very popular because it provides very quick and easy access to almost every insurance service with a click of a button. You can manage all of your insurance policies from the app itself. The app allows you to submit pictures and report while riling a claim, has easy access to your billing info, and much more.
This app is helpful and informative for all of its users. It's chock full of incentives to help you stay safe and get rewarded for it. It's very convenient and is an app that you will want to check in with and use every month. It provides its user with accident support, can provide roadside assistance, helps the user simplify their bills, gives its user a long list of services, and gives access to quick and direct polices. It gives the user access to quick and direct policies and the ability to report claims faster and more efficiently. The app allows the user to catalog personal property while filing a claim, it provides an artificial reality (AR) escape route in the event of a fire, and much more!
Lemonade Homeowners and Renters Insurance
This hassle-free and easy to use app provides excellent service, quotes in seconds, custom coverage, and instant claims. It's an exciting insurance company and provides insurance to its users without tons of paperwork and steps to be approved for it. It has been credited as the most reliable app that actually provides the insurance of your dreams. It holds the record for processing the fastest claim and getting you paid faster than any other app. Coverage starts as low as $5 a month for renters, you can file a claim anytime and anywhere, and it is a company that takes a lot of the money it makes and turns around and gives it back to the community and charities that the company is passionate about.
Who knew that a small button on your phone could provide so many incredible things? Spoiler alert, we did! It should take time and dedicated consideration to pick out the best insurance policy for your needs. But once you have picked out the right company and policy, the next step is to download their app right to your phone. Like these five examples above, apps help make your insurance more reliable, easier, and hassle-free. During times like these, when we are unable to meet with insurance reps in person, apps can help guide us and answer questions more effectively and efficiently while staying safe at home. Download your favorite app today and begin not only saving money but also your sanity!